My Unique Products

For spinning delight, try Fiber Kingdom's "Mist" series of rovings.
These are a blend of fine wool, silk and my own angora rabbit fiber.
The fibers are dyed by Sylvia before being sent to the mill for blending
into rovings with marbleized streaks of colors, producing a very interesting variegated yarn. "Shadows" is another Fiber Kingdom product,
incorporating dyed kid mohair in a matrix of natural black alpaca
with just a little sheep wool added to provide some elasticity. Sample
cards are in preparation for both Mist and Shadows.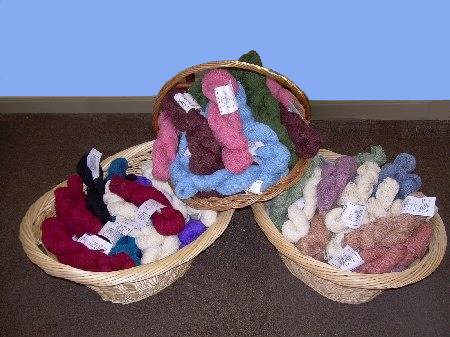 For felting, the Fiber Kingdom periodically has batts of blended angora
and wool, some natural colors, sometimes dyed. Contact to check on
availability. For Knitting and Weaving, Fiber Kingdom's "Cloud "
yarn is a sport-weight blend of 1/3 prime angora and 2/3 fine wool,
available in 8 jewel tones and natural white. "Frost" is a smooth sport
weight yarn of 1/3 kid mohair and 2/3 fine wool, available in a selection
of deep colors. "Reflections" is a noily sport-weight blend of 60%wool
and 40%silk, dyed in high pastels (also natural). All the dye work is done
by Sylvia, who mixes her own formulas. Sample cards are in preparation.